Velvet
One of the hottest trends in interior decorating last year and continuing into 2019 is the reemergence of velvet fabrics.  Many consider velvet to be "the fabric of the year".  This multidimensional, rich, and chic fabric has made it off the fashion runways and into our homes.  Velvet is luxurious, yet durable, and has an exquisite touch which has always endeared itself to design-lovers. While previously viewed as outdated and funky, it is now viewed as luxurious with velvet furnishings being one of the most sought-after trends this year.  Recently, its fan base has been rapidly expanding, so if you haven't jumped on the bandwagon it is time to reconsider this versatile fabric.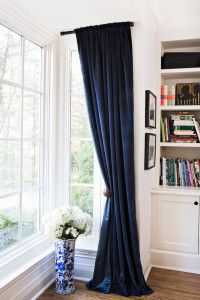 Floral Patterns
Floral patterns have been around for a while; however, this timeless design will get a new look in 2019.  From the runways in Paris and New York to your home, today's floral prints are big, bold, and abstract – not your grandma's dated floral prints.  These larger-than-life interpretations of flowers are the new take on this ageless, classic design.  The new exaggerated proportions and contrasting colors incorporated in the floral patterns provide an easy way to brighten a room through the inclusion of throw pillows, curtains, upholstery, or wallpaper.
 Richer Color Palettes
Though muted colors can help you avoid making spaces feel overwhelming, designers believe that this will be a year where bolder colors are preferred.  Richer hues throughout your home can make your more muted furnishings and decorative décor pop.  Lookout for dramatic reds, statement pinks, bold yellows and organic greens!
 Nightwatch Green
Coined "nightwatch green," this moodier alternative to hunter and bottle green is considered by many to be one of the colors of the year.  It makes for a nice alternative to today's on-trend matte black and looks great with high-shine finishes and elements. But if a full room is too much, do consider small yet impactful ways to bring the color in, say a vibrant textile here, or a deep green rug.
 Shades of Pink
From blush to pale pink to living coral, the various shades of pink are some of the hottest colors right now.  Trends include using a bolder color to create an eye-catching look or a softer color for its versatility and ability to be paired with whites or yellows.  Consider incorporating pillows, throws, or upholstered furniture to get your pink fix.
Tonal Reds
As design trends move away from cooler colors like greens and blues to warmer colors, tonal red is the perfect color to add a complimenting contrast to bring more warmth and comfort into your home.  It can easily be paired with silver or grey tones to create a juxtaposing, but inviting, look or consider using tonal reds for velvet furnishings to incorporate another popular design trend.  
Silver & Grey Tones
Silver and grey tones are some of the most popular colors in 2019.  With names like, Slate, Charcoal, Grey, Sterling, Silver, Smoke, Graphite, and Pebble, there is a whole spectrum of colors within this color-way.  Pair these colors with those richer color palettes to create a more uplifting yet muted look, such as grey and pink or grey and burnt yellow.  Incorporate these colors with the timeless looks afforded by the geometric or floral prints, as well, to create a truly unique but classic look.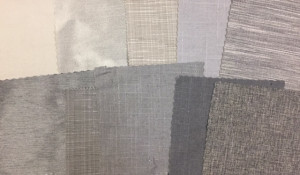 Millennial Pink
Millennial Pink was the hottest color for 2018, so it's no surprise that it's here to stay for 2019, as well.  Part bubblegum pink, part salmon, pair it with a bolder red or a toned down grey to create the perfect look.  Through its versatility, commercial popularity and staying power, Millennial Pink has transcended traditional gender connotations to become an androgynous "new neutral" associated with an entire generation.  This mature and sophisticated shade works well with bold looks like a feature wall or more subtle looks like plain curtains, bed sheets, or cushions.
 Black & White
A truly timeless design trend, black and white furnishings will want to be on your list of trends to incorporate into your home's décor.  The visual contrast of black and white will provide a sense of balance and boldness to your home's space.  Consider black and white striped window awnings, bedding, throw pillows, or curtains to create a fresh, modern, and jaw-dropping look in any room.
 70's Chic
With many old design trends coming back in style this 2019, such as velvet and geometric patterns, designers are expecting to see many nods to the 70s era, as well.  The 70's chic décor is all warm palettes, funky textures, and abstract silhouettes.  Incorporating this trend into your home will bring out amazing personality into every living room or bedroom design.  Consider adding bold color palettes to 70s-inspired velvet, rounded furniture and add a gold accent to complete the room's look.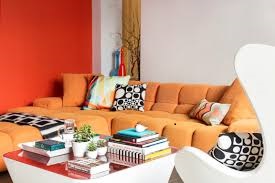 Geometric & Tribal Patterns
Geometric patterns almost never go out of style, but what makes them feel so right when considering interior design trends is the warmth, familiarity, and offset pattern they can easily introduce to even the most minimal of rooms.  The trend this year is for a bolder color with oversized pattern.  If a full-on heavy-handed geometric inspired look is not for you, think about small ways to bring in the moment with fresh linens, go-to decorative pillows and throws that you can easily switch out once the design scene moves on.