Expertly crafted to order, Fashion Window Treatments' custom Roman Shades are available in over 350 fabrics and four distinct styles, including Flat Fold, Hobbled, Casual and Tucked. Roman Shades give windows the softness and style of draperies with less bulk. They're easy to operate and can give you complete privacy when lowered. Clean lines and classic tailoring have made Roman Shades a popular choice for interior designers and homeowners alike. And because they are available in a range of styles and materials – from classic to casual to elegant – it's easy to find a look that complements your space.
There are many different custom Roman Shade styles to choose from. Today I am going to take a closer look at the four most popular styles and help you determine the style that is right for you and your window type.
Flat Fold Roman Shade
This fold style is made of one solid piece of fabric with no seams. Most customers choose it when they want a streamlined look or have a fabric with a large pattern.
Why choose Flat Roman Shade:
Fabric lays completely flat for a clean, minimalist look.

Large-scale patterns remain uninterrupted with no seams.

Slim profile makes it perfect for shallow windows and French doors.

Folds are slimmer when fully raised.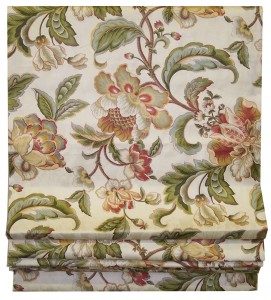 Casual or Relaxed Roman Shade
This style features a gentle curve along the bottom hem plus built-in fullness at the bottom of the shade, resulting in a look that's less structured and more free-flowing.
Why choose Casual or Relaxed Roman Shade:
As the name implies, this style has a more casual and relaxed look and feel.

Apart from the bottom, the majority of the fabric lays relatively flat.

Larger scale patterns remain visible.

Moderately functional, this shade is primarily decorative.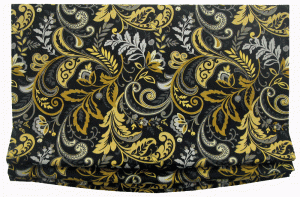 Hobbled or Soft Fold Roman Shade
This traditional style is constructed with loops of fabric all the way down the shade. We love it for formal rooms or spaces that need complete privacy. The folds give you the roman look even when the shade is fully lowered.
Why Choose Hobbled Roman Shades:
Gives your windows a full, folded look even when the shade is fully lowered.

When you raise the shade, folds stay neat and even.

The extra fabric used to make the folds makes this style a bit more room darkening.

Crowns the window like a valance when the shade is fully raised.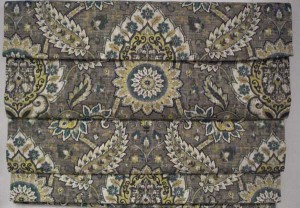 Tucked Roman Shade
This style lays flat with evenly spaced horizontal fold lines that are seamed to hold small dowels across the front of the shade. The result is a textured and structural look with refined visual interest.  
Why Choose Tucked Roman Shades:
Seams add visual interest and structure to solid fabrics.

Great choice if you're opening and closing frequently because seams help fabric fold evenly.

Lays flat when lowered, so it's perfect for doors and shallow windows.

Seams can interrupt large-scale patterns. Instead, choose flat where a solid piece of fabric is used or hobbled where seams are less apparent.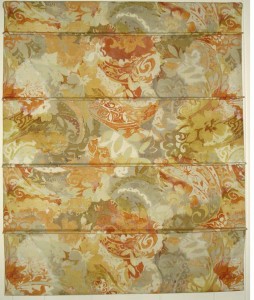 Have More Questions About Roman Shades?
Feel free to send us an e-mail or give us a call with any questions you may have. Our resident Roman Shade expert would be happy to walk you through all of your options.