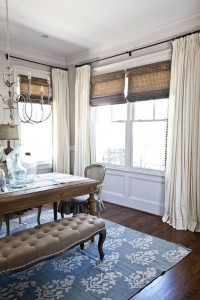 DO: Use Different Treatments in Each Room
Your home is a space that reflects you and your family – it tells a story. Each room is a unique chapter in that story. You wouldn't put a bed in the bathroom, so why would you put cafe curtains in the bedroom? Incorporating different treatments, fabric textures, and patterns in your treatments to bring dimension and interest to your home and windows. Getting the right window treatments in each room can really make a huge difference.
DON'T: Assume One Size Fits All
It sounds like a no-brainer, but this is why custom window treatments are so important! Off- the-shelf window treatments from the neighborhood department store will not fit your windows properly. Custom window treatments are custom to your home and windows! Even when measuring windows in your house, don't assume all of the windows are the same size even if they look the same. This tip also applies to the type of window treatment. Window treatments should be unique to each room and each room's needs. Do you need to create privacy? Or allow light to enter the room? Each type of treatment will create a different effect in every room. Don't forget – don't assume!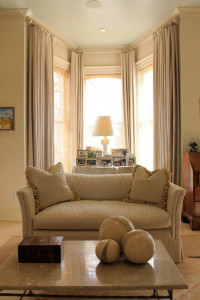 DO: Hang High
Make your space look bigger and more luxurious by hanging your drapes high – at least 12 inches above the window frame or all the way to the ceiling. This will elongate your windows and add visual height to the room. By hanging your window treatments just above the window frame, you date your style. Make a statement by hanging them high!
DON'T: Forget to Measure Twice
When measuring the window, don't forget to measure the space you'll need around the window for the treatment, as well. For many people, the primary purpose of ordering window treatments is to be able to control the lighting and increase the privacy in their homes. However, window treatments that don't fit properly are not effective at controlling the lighting or increasing privacy. Before placing your order, make sure you take precise measurements of the interior of your window AND the area outside your window where you want to install your new window treatments. Each window is different, even if it looks different! Measure twice to be precise! Here are some tips!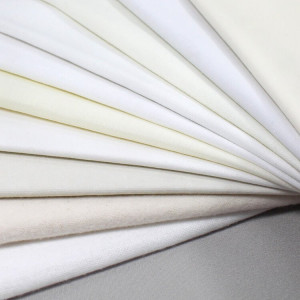 DO: Line Your Treatments
Drapery lining can be the magical final touch that brings your custom look together and ensures it lasts for years to come. Drapery lining is beneficial for many reasons. It can help reduce energy costs, create a fuller bodied drape, reduce external noise, exclude light, protect your curtains and furniture from sun and moisture, extend the life of the fabric, and help produce a more professional look. You can read more about the types of lining here.
DON'T: Block Natural Light
Lighting is crucial to interior design. Natural light should be used to its best advantage, so you should hang your window treatments to allow the maximum amount of light in the room. Most likely, you'll hang your windows high and wide (see earlier point) to take advantage of the light!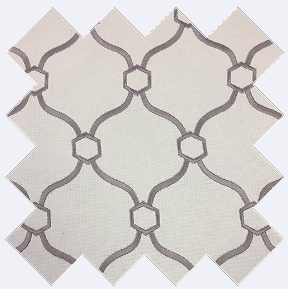 DO: Order Samples
It is impossible to know what your window treatment will look like in your home simply by viewing them on a screen. The only way to truly know the color, texture, and pattern of the fabric is to order samples. Fashion Window Treatments has more than 400 fabric swatches available to order as a free sample! Each sample measures approximately 6" x 6." Ordering samples not only gives you an accurate representation of what your window treatments look like, but it also makes it easy to compare them to your furniture, your walls, and other décor in your home to find the perfect match.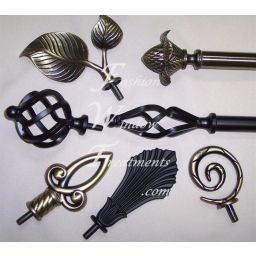 DON'T: Forget Hardware
Don't forget about the decorative details! When completing any design look, the small  elements and details can truly make all the difference – a pop of color, the perfect wall hanging, or natural elements like a house plant. Accessorizing your custom window treatments is no different. Accessories, such as tiebacks, holdbacks, hardware, and decorative trims and tassels, can tie together your window treatment's custom look. Accessories can add style, elegance, and increase the aesthetic of your home. While the window treatments are the main event, the accessories are vital supporting acts that will complete the show! Read more about hardware here!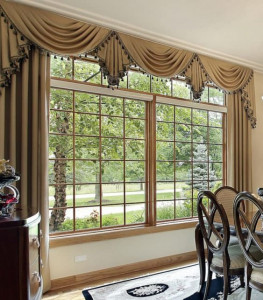 DO: Layer Treatments
Do create a true designer window look by incorporating two types of treatments, such as a chic valance and drapes or Roman shade and plantation shutters! This rule is rooted in both functionality and design! When you layer window treatments, you allow for better insulation of your home AND it creates a chic look by turning your windows into a focal point. Picture the image above without the valance. Boring, right?