When completing any design look, the small elements and details can truly make all the difference – a pop of color, the perfect wall hanging, or natural elements like a house plant. Accessorizing your custom window treatments is no different. Accessories, such as tiebacks, holdbacks, hardware, and decorative trims and tassels, can tie together your window treatment's custom look. Accessories can add style, elegance, and increase the aesthetic of your home. Here are some of our favorites: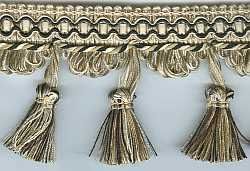 Fabric and Tassel Tiebacks
Tiebacks are an excellent way to make your window treatments stand out. In addition to being decorative, tieback are both functional, too, as they can filter sunlight and provide privacy. Fabric and tassel tiebacks are perfect for formal rooms. Incorporate braided or tassel tiebacks for an upscale look. While these types of tiebacks typically match the colors of the window treatment, Fashion Window Treatments carries fabric and tassel tiebacks in solid colors or multi-color options. If you are opting for a simpler look, fabric tiebacks are probably right for you. Whether you elect to use the same fabric as the drapery or to use a contrasting fabric, fabric tiebacks will create a look of simple elegance.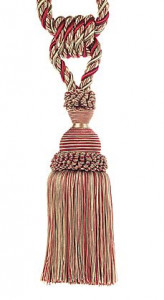 Decorative Trims & Tassels
Trims and tassels can be added to many custom window treatments. They will accentuate your home decor to give it a distinct look. With such a large variety of fringes – tassel, brush, Key tassels, braided, bullion, ball, scalloped, or Fes tassels – you are sure to find a look that is perfect for your home. If fringes aren't right for you, trim is another option. These accessories will add a finesse to your treatments.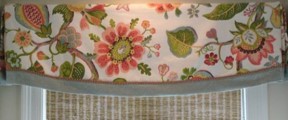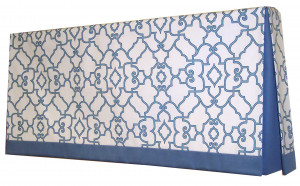 Banding
Banding is strips of fabric that are added to the window treatment as an accent. The fabric can be made from coordinating or contrasting fabric. The raw edges of the banding are tucked under for a clean, polished look and are either sewn into the hem or top-stitched. The most common application is down the "leading edge" of drapery panels where the band is sewn in the hem to give the appearance of a continuation of the fabric. It can also be set in a few inches from the leading edge and top-stitched to the panel. Generally, these types of applications use a 2"-3″ band; however, wider bands are sometimes used horizontally across either the top or bottom of the panels. Fabric banding can be used on many types of valances, drapery panels, and even cornices! Banding also comes in various forms – straight across the bottom, set up a few inches, vertical or horizontal, or even shaped to follow the contour of the valance.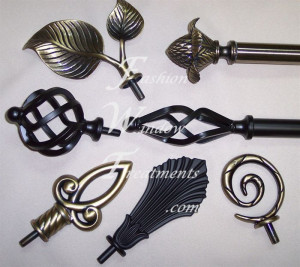 Hardware
Decorative rods are one of the most important features of custom window treatments as they ensure that your treatments are secure and hanging straight! Here at Fashion Window Treatments, we believe metal rods are the most effective and timeless. The finials, or the elements marking the top or end of the rod, and the finishing of the rod are crucial design decisions. Are you looking for a simple finial or more ornate? Do you want a darker finish or a lighter one? These are all questions you have to answer when selecting hardware for your drapery.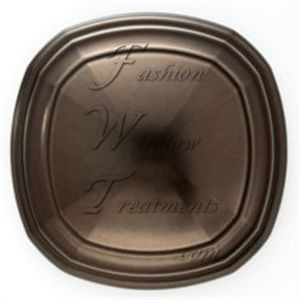 Holdbacks
Holdbacks are made of metal, so they are long-lasting and durable. They create a clean look by helping to tuck the curtain or drape. Holdbacks come in a variety of shapes and sizes, and can be easily switched to reflect the changing seasons or changing design trends. Fashion Window Treatments is proud to offer a metal medallion holdback in a variety of finishes.

Take the final step in the custom window treatment design process by accessorizing today! Visit our website to shop and learn more.