Standard Swags and Jabots

Swags and jabots window treatments have a timeless beauty that will always be on the top of decorators lists. We offer our swags and jabots separately to allow you to customize your windows like a professional. Jabots and swags are fully lined and fit 1" double or triple curtains rods depending on the number of swags being used on one window. Jabots, which are also called cascades, can be made any length from 27" up to 84".
CLICK HERE FOR FULL DETAILS
Standard Swag & Jabots
Pictured as a set with a pair of 29" long jabots.

Swags and jabots

are sold separately

so that you can outfit your window the way you want.
Swags are available in 2 widths: 29" or 38"and have a 1.5" rod pocket.


Swags have a 14" drop and 5 folds.

Swags are fully lined in drapery lining.

Jabots are sold as a pair. (one left - one right)


Jabots can be tailored any length from 27" - 84".

Jabots are lined in a pre-determined matching fabric-if you have a particular fabric selected for the lining, enter it in text box where indicated.


Jabots have 4 pleats, 3 1/2" return and 1 1/2" rod pocket.

Face of jabots are 11 inches - total width including return is 14 1/2".

Normal overlap of swags is between 6 - 15 inches.

Fits 1" double curtain rod for 1, 3 or 5 swags with a pair of jabots.

Fits 1" triple curtain rod for 2 or 4 swags with a set of jabots.Optional pelmets measure 12" x 16"

and have 3 pleats on each side.

Pelmets are used to achieve a more formal custom look. Use one pelmet in between any point where 2 swags come together or you can use in the corners only of bay windows.

Swags should not be overlapped where pelmets are being used.

Pelmets are lined in the same fabric as the jabot lining.
PLEASE NOTE THAT IF YOU NEED MORE THAN ONE SWAG PER WINDOW YOU WILL NOT BE ABLE TO ADD ALL THE PIECES TO YOUR CART AT ONE TIME. YOU WILL NEED TO RETURN TO THIS PAGE AND SELECT 0 IN THE JABOT DROPDOWN (meaning you don't want any additional jabots) AND THEN ORDER THE ADDITIONAL SWAGS. Please call or email us if you need any assistance.
Pelmet: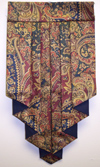 How to Hang Single Swag with Jabots
How to Hang 3 Swags with Jabots
 Suggested Swag Combinations:
One 29" swag for rod sizes 29" - 33"

One 38" swag for rod sizes 38" - 42"

Two 29" swags for rod sizes  42" - 50"

Three 29" swags for rod sizes 59" - 72"

Two 38" swags for rod sizes 60" - 68"

Two 29" & one 38" swags for rod sizes 66" - 80"

Two 38" & one 29" swags for rod sizes 79" - 90"

Three 38" swags for rod sizes 85" - 100"