Grommet Top Curtains are sold by the individual panel in width sizes up to 200" and lengths up to 120" so that even the tallest and widest of windows can be outfitted. If a longer than 120" length is desired, please call us. Panels are fully lined in 100% cotton privacy lining. Our custom grommet panel curtains also give you the option of having the panels fabricated with thermal, classic napped lining, or a grommet blackout curtain lining. Over 350 fabrics to choose from or call us, we'll also use your fabrics! Grommets are metal, round and are available in 5 finishes: nickel, antique brass, antique copper, black and brass.
CLICK HERE FOR FULL DETAILS
Grommet Panels
Sold as individual panels.

Fully lined in 100% cotton privacy drapery lining with UV and water repellent inhibitors - other optional linings available.


Buckram is in heading for stability.

Grommets available in 5 finishes - antique brass, black, brass, antique copper or nickel.

Inside diameter of grommet is 1 9/16".

Use with a 1 3/8" diameter or smaller decorative pole.

Grommets are placed approximately 1 1/8 - 1 1/4" inch down from top of panel. Length is measured from the top of the panel.

Panels are weighted at corners and seams.
Double 1 1/2" side hems and double 4" bottom hems.
Fully pattern matched.
Functional panels should be a minimum of 150% fullness (more fullness is better) to rod width (based on either one panel alone or two panels together).
Standard windows should use two 50" width panels.
Available Panel Sizes:
Width: 50", 75", 100", 125", 150", 175" or 200"

Length/Height: 36" - 120" (call if need longer length)
Grommets in picture below as shown:
Colors as shown - top row (left to right): antique copper, nickel, black

Colors as shown - bottom row (left to right): antique brass, brass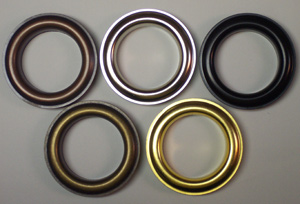 />
Alternative Lining Choices:

1. Blackout lining is used in place of privacy lining to filter light completely out of a room. It also provides insulation and UV protection for your drapes.
2. Thermal lining can be used in place privacy lining for those who need better insulation properties. Thermal lining also provides better UV protection for your drapes than standard privacy lining.

3. Classic napped lining is a high end lining that offers the look of a premium sateen lining with the added bonus of thermal and noise reduction. The outer side of the lining is a premium sateen while the inner side of the fabric has raised flannel like fibers that will add body and drapeablility to your window treatments.